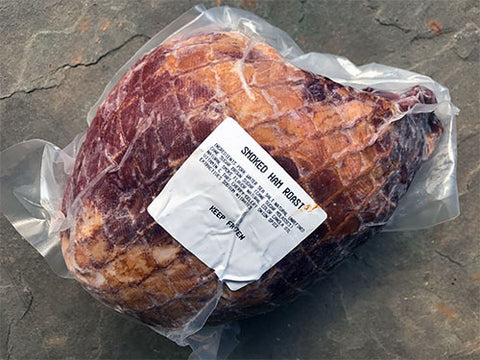 Berkshire Fully Cooked Ham
Purebred Berkshire Pork
Fully cooked and Ready to Eat
Pasture-raised, Non-GMO Berkshire Ham
Hickory Smoked and Sugar Cured
Gluten Free, No antibiotics, or added hormones
Raised on our Small Family Farm
Ships frozen.
Available for pickup on the Farm.
Our Berkshire Cooked Ham is great anytime. It is fully cooked and can be warmed and served as a main course, sliced and made into sandwiches, or chopped into delicious little bites for appetizers. This GMO Free ham is available in multiple sizes.
Indulge in the superior quality and celebrated flavor of Berkshire Pork. Also known as Kurobuta, Berkshire Pork is preferred by chefs worldwide. Its quality rivals Kobe beef. Berkshire pork has a rich, deep pink color and is tender, juicy, and finely marbled. If you're looking for the best tasting pork you've ever had, you've come to the right place.
Humanely raised on pasture and in the forest bordering the South Branch of the Patapsco Valley State Park. Our heritage breed pigs are raised on an all-natural diet consisting of local Non-GMO feed, pasture, foraged walnuts, and fruits and vegetables grown on our farm.