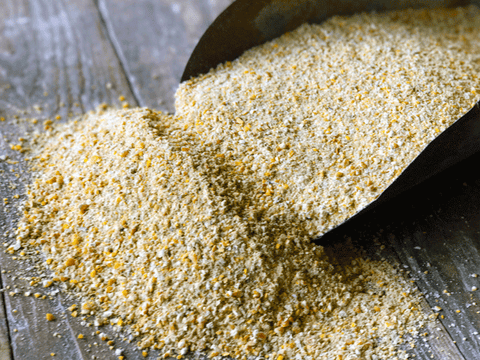 Non-GMO Pastured Hog Grower
Premium Non-GMO Hog Grower with 16% protein
Contains necessary protein, minerals, and vitamins that perfectly compliment a pasture diet
Contains crucial essential oils & herbs with antibiotic qualities
Contains probiotics to fight disease
Contains diatomaceous earth to help fight parasites
Grown and produced locally in Maryland by a Family Farm
Ingredients:
Non-GMO Corn, Non-GMO Roasted Soybeans, Hog Mineral and Vitamin Premix, Kelp, Linseed Oil, Diatomaceous Earth, Probiotics: Safmannan & Integral, Natural Essential Oil & Herbal Supplement
Feeding Directions:
Feed to growing hogs supplemented with lush pasture. Maybe fed free choice. Provide plenty of clean, fresh water. Do not feed moldy or insect infested feed. Pasture is not necessary as this is a complete feed ration, just recommended for best results.
Available in 40 lb. bags.
Give your hogs the boost that they need while grazing on pasture with this nutritious 16% Non-GMO Hog Grower feed. This feed contains the necessary protein, minerals, and vitamins that is perfectly complimented with a pasture diet. Essential oils, herbs, probiotics, and other natural supplements keep your livestock in optimum health.