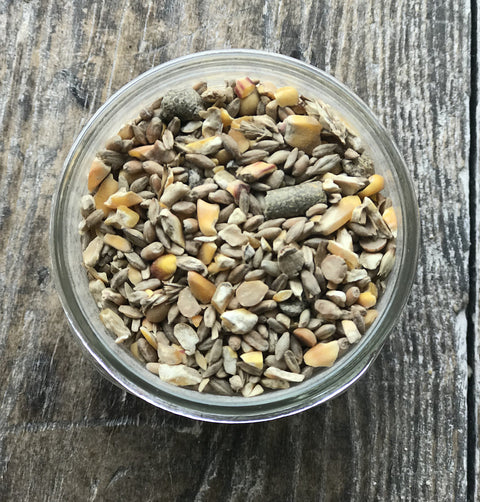 Non-GMO Potbelly and Mini Pig Feed
Keep your Pet Pigs Happy with this Nutritious Non-GMO Pig Feed
Your Pigs will Love the Flavor of the All Grain Mix
Premium Non-GMO Potbelly & Mini Pig Feed with 12% protein
Contains crucial essential oils & herbs with antibiotic qualities
Contains probiotics to fight disease
Contains diatomaceous earth to help fight parasites
Grown and produced locally in Maryland by a Family Farm
Ingredients:
Non-GMO Corn, Non-GMO Barley, Non-GMO Wheat, Non-GMO Roasted Soybeans, Non-GMO Alfalfa, Pig Mineral and Vitamin Premix, Kelp, Linseed Oil, Diatomaceous Earth, Probiotics: Safmannan & Integral, Natural Essential Oil & Herbal Supplement
Feeding Directions:
Feed to pigs at 4% of body weight per animal per day. Maybe fed free choice. Observe the animals body condition and increase or decrease feed as necessary. Provide plenty of clean, fresh water. Do not feed moldy or insect infested feed.
Available in 40 lb. bags.
Keep your pet pigs in a happy state of mind with this nutritious Non-GMO Potbelly and Mini Pig Feed. Not only will they love the flavor of an all grain feed, but natural additives like probiotics, essential oils, herbs, and diatomaceous earth will keep your animal in the best health.