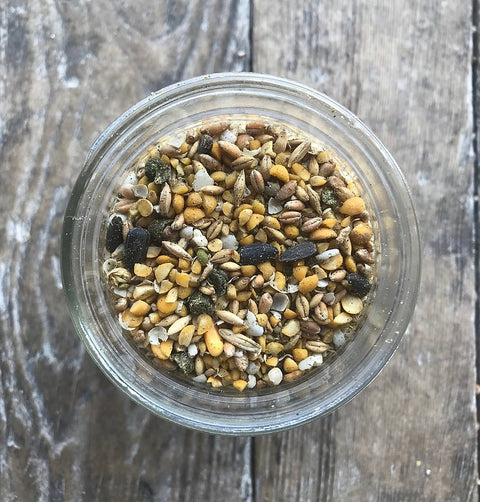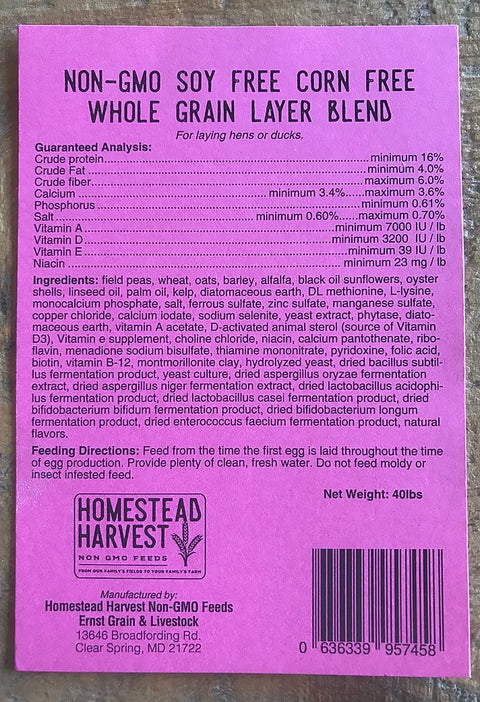 Soy-Free, Corn-Free Whole Grain Layer Blend
Non-GMO Soy-free, Corn-free Whole Grain Layer Blend
Complete layer feed fortified with minerals and additional calcium
High level of linseed (flax) oil for producing Omega-3 enriched eggs
Contains diatomaceous earth to help fight parasites 
Grown and produced locally in Maryland by a Family Farm
Ingredients:
Non-GMO Field Peas, Non-GMO Wheat, Non-GMO Oats, Non-GMO Barley, Non-GMO Alfalfa, Non-GMO Black Oil Sunflowers, Oyster Shells, Linseed Oil, Palm Oil, Kelp, Diatomaceous Earth. See image of ingredients label for full list.
Feeding Directions:
Feed from the time the first egg is laid throughout the time of egg production. Provide plenty of clean, fresh water. Do not feed moldy or insect infested feed.
Available in 40 lb. bags.
This blend of Non-GMO cracked grains is a complete layer feed made without soy or corn. This feed is fortified with minerals and additional calcium to ensure quality eggshells. A higher level of omega 3's is added through linseed (flax) oil to produce omega 3 enriched eggs. This feed may be fed to any type of laying birds including chickens, ducks, and all types of waterfowl. Know exactly what is in your birds diet with this soy-free, corn-free, Non-GMO chicken feed.