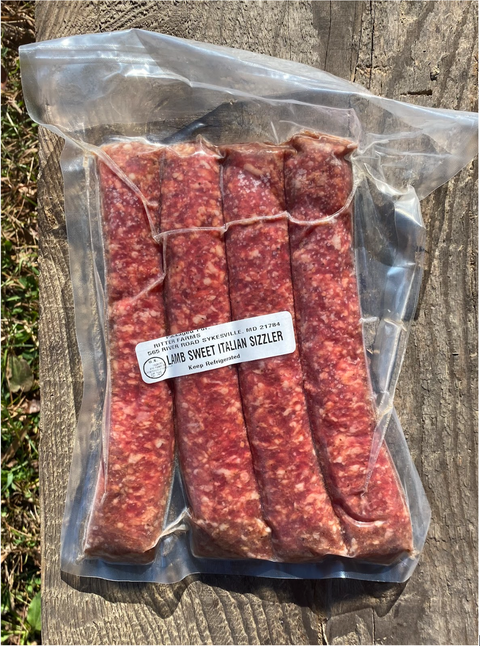 Sweet Italian Lamb Sausage
Non-GMO, Grass-fed, Sweet Italian Lamb Sausage
Great source of Omega-3 fatty acids
Raised on our Small Family Farm
Available for pickup on the Farm.
Ingredients:

Non-GMO Lamb, Water, Salt, Brown Sugar, Fennel, Anise Seed
Our Sweet Italian Lamb Sausage is great for dinner, a celebration or entertaining. Limited quantities available in both Blackbelly and Texel lamb.
Humanely raised on pasture and in the forest bordering the South Branch of the Patapsco Valley State Park. Our lambs are raised on an all-natural diet consisting of pasture and local Non-GMO feed.
Our sheep spend their time in our pastures and woodlands. Blackbelly sheep are great foragers and thrive in this kind of environment. Grass is their main source of food although during winter months they are fed locally-sourced, Non-GMO hay and feed. We rotate our sheep between several pastures throughout the year to minimize their impact on the terrain and to provide fresh pasture.